CELS(The Center for Ethics, Law and Society) Lecture Series
Forum in Ethics, Law, and Society (PHIL 205) JOIN US MONDAYS
Mondays, 12:00-12:55 pm, in STEVENSON 1400
Lecture is free and open to the public. General parking is $5 in lots J, E and F with parking permit machines available. Click here to view SSU map.
Scan QR code or click on this link to join live each Monday at noon.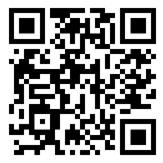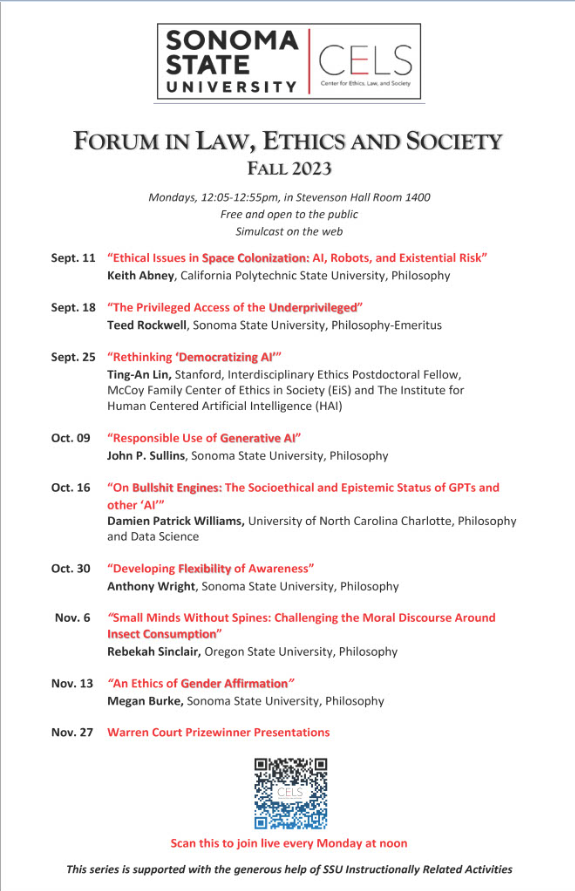 Lecture and Presentations topic: FiLES 2023

Date
Topic
Presenter
9/11/2023
Ethical issues in space colonization:                                   AI, robots, and existential risk
Keith Abney, Cal Poly

This presentation will discuss issues in the ethics of space colonization, including its relationship to climate change, the ownership of property in space, and dual-use concerns. It will tie these issues to an increasingly prevalent concern in AI ethics, existential risk, and come to some conclusions about how these intersecting issues should best be addressed.

 

Video of lecture unavailable.

 
 
 
9/18/2023
The Privileged Access of the Underprivileged
Teed Rockwell, SSU Emeritus
We will discuss the differences and similarities between socioeconomic privilege and epistemic privilege. In discussions of identity politics, a lack of socioeconomic privilege gives one a kind of epistemic privilege similar to the privileged access often discussed in philosophy of mind debates. This is why privileged people can be accused of gaslighting when they question the assertions of marginalized
 
 
 
9/25/2023
Rethinking "Democratizing AI"
Ting-An Lin, Stanford

AI has a troubled relationship with democracy and only if we consciously design it with democratic principles, we will be faced with a powerfully antidemocratic force in our society.

Click to here see video of Ting-An Lin's lecture.

 
 
 
10/9/2023
Responsible Use of Generative AI
John Sullins, SSU
 
 
 
10/16/2023
On Bullshit Engines: The Socioethical and Epistemic Status of GPTs and other "AI"
Dr. Damien Patrick Williams, University of North Carolina Charlotte
Our world has become increasingly entangled with so-called artificial intelligence— systems which seem to replicate human speech and thought, and which we are told will make our lives easier, more efficient, and more interesting. But what do these tools and systems actually do, and how do they do it? And why are we so willing if not downright eager to integrate them into every facet of our daily lives, even when we know their content bears little to no relationship to facts or truth? Here, we will discuss the historical origins and sociotechnical implications of generative pretrained transformers, as well as other forms of "AI." We'll examine what has already and what can potentially go wrong when we integrate "AI" into various aspects of our lives; and we'll dig into what our increasing reliance on these systems, as they're currently formulated, does to our claims to and processes of generating knowledge. Neither "AI" qua "AI" nor the forms these tools and systems currently tend to take are inevitable, but in order to change them, we must understand what they truly do, are, and could be.
 
 
 
10/30/2023
Developing Flexibility of Awareness
Anthony Wright, SSU
 
 
 
11/6/2023
Small Minds Without Spines: Challenging the Moral Discourse Around Insect Consumption
Rebekah Sinclair, OSU
What would it take for us to become comfortable with eating insects?  Dr, Sinclair will present her arguments and findings that suggest that insect consumption can be healthy and better for our environment than many of the ways we add protein to our diet today.
 
 
 
11/13/2023
An Ethics of Gender Affirmation
Megan Burke, SSU
 
Join Dr. Burke for an informative discussion on gender.  As our notions of gender are developing rapidly it is important that we learn about this field of study and quickly apply its findings to make our lives better and more just.
 
 
 
11/27/2023
Warren Court Prize Presentations
Prize winners
Student winners of the Warren Court essay Prize will receive their award and present their winning essays